8-NIGHT BOTSWANA FOCUS SAFARI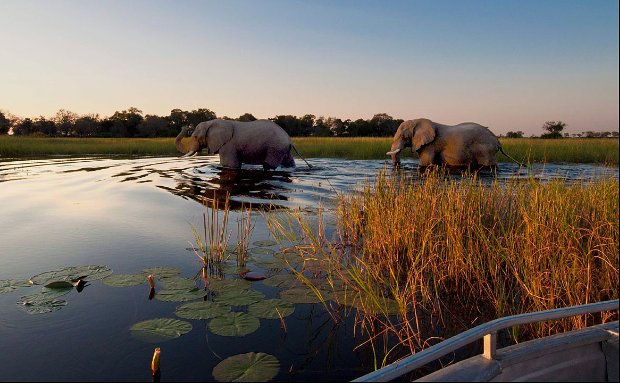 VIEW FULL ITINERARY SEND INQUIRY       
PIONEERS VICTORIA FALLS | VICTORIA FALLS (ZIMBABWE)
Set in lush gardens with beautifully manicured lawns, this fifty room lodge is a great option for those who value comfort and elegance on their Victoria Falls safari tour. The rooms are spacious and tastefully decorated in a classic style, and each has a clear and open view of the garden.
The heart of "Pioneers" Lodge is the centrally located main area. The layout and classic décor here is extremely welcoming with a serene and stylish lounge which is airy and comfortable, and the rich inside dining room is certainly nostalgic and inviting. The guests also have the option of relaxing and dining on the spacious and expansive terrace, overlooking lush gardens. There is a large saloon style bar area which serves a variety of cold and hot beverages, including local craft beer made from our very own Zambezi water. For the modern traveller, Wi-Fi is important and this is readily available throughout the lodge. Well placed in the lush gardens are two swimming pools for the guests to use at their leisure. In addition to these, a day spa, TV Room and a meetings room are also available on the property.
Pioneers is a family friendly property
CHOBE BAKWENA LODGE | CHOBE RIVER FRONT
Bakwena Lodge is an intimate, privately owned eco-lodge on the banks of the Chobe River. We have a total of 15 STANDARD chalets designed and decorated in a manner befitting our environment which offer a cool and comfortable escape. 'Ten 'River-View Chalets' which are all facing the magnificent Chobe River and Five 'Treetop Chalets' which are elevated 3m above the ground with views of the Treetop canopy. Guests will find out on arrival which room type they have been allocated. We offer an inclusive safari option in an area with some of the finest game viewing to be had. Chobe is well known for its predators and is home to an estimated 200 000 elephants. Activities are naturally focused on the land and water based safaris, all based in-house, a host of other activities are also on offer including a guided Village Walk/Bicycle Tour or a sundowner cruise to the meeting place of four countries, (the only one in the world). Bakwena's excellent guides will endeavour to make your stay in Chobe a highlight of any safari. The lodges' eco-credentials include the natural swimming pool filtered entirely by plants, their employment policies, food choices, building methods and a host of otherwise unseen ways in which any negatives to the lodges surroundings or environment are addressed.
SETARI CAMP | MOREMI GAME RESERVE
Setari Camp is located on a picture-perfect palm island in the very heart of the Okavango. Situated within a private concession of 120,000 acres of unspoilt wilderness, exclusivity and seclusion are guaranteed. Enjoy a pure Okavango Delta safari experience, inhabited by a myriad of birdlife and wildlife unique to this exceptional ecosystem. The area is a birder's paradise, boasting a huge number of migrant birds, aquatic birds, raptors, a seasonal heronry and to top it all, the hauntingly beautiful Pel's Fishing Owl.
Setari Camp accommodates 20 guests in 8 light and airy tents and 1 suite designed for families. Each tent cleverly combines understated luxury with an authentic and relaxed home-from-home atmosphere. The base camp for this Botswana safari experience resembles an enormous tree-house where the entire construction is elevated with wooden walkways linking the impressive sitting and dining areas, pool-with-a-view, gym and curio shop. All of the tents have private decks with spectacular views over the Okavango. Safari activities available at Setari include bushwalking, boating or gliding gently through the waterways in a traditional Mokoro (dug-out canoe). Delicious home-cooked food, super-comfy accommodation and superb guiding all combine to make Setari a hidden treasure in the iconic Okavango Delta for Botswana safari guests.
SANGO SAFARI CAMP | KHWAI COMMUNITY AREA
Sango Safari Camp is nestled in the shade of the trees overlooking the Khwai River. Situated on the outskirts of the traditional village of Khwai and on the border of Moremi Game Reserve, the camp offers Botswana safari guests the perfect base from which to explore the wildlife and culture of this unique habitat.
This intimate safari camp is named for the Sango Family, some of the original inhabitants of the Khwai area, and now part owners of the camp. Guests will have the chance to learn first hand about the unique lifestyle and experiences that come from living and growing up in one of the most wildlife rich areas of Botswana.
Accommodating 12 guests in 6 en-suite meru tents Sango Safari Camp is designed in the style of the classic tented safari camp of days gone by. With its open-air bucket showers, hand crafted furnishings and classic styling Sango Safari Camp aims to rekindle the atmosphere of the luxury mobile safari camp, successfully blending the rustic with the luxurious.
With the Khwai River forming a natural border between the world famous Moremi Game Reserve and Khwai Concession, animals can travel freely through this vast unfenced wilderness. Situated on the river overlooking the Moremi and with access to both these magnificent wildlife areas, Sango Safari Camp is focused on delivering an exceptional wildlife experience to our Botswana safari guests. The camp's location allows guests to take advantage of a host of wildlife activities which include open vehicle game drives both in the Moremi and in the Khwai concession area, night drives and mokoro trips.