Namibia Unveiled: Discover the Mesmerising Tapestry of its Diverse Regions
Posted by S. Schneider on Mon July 24, 2023.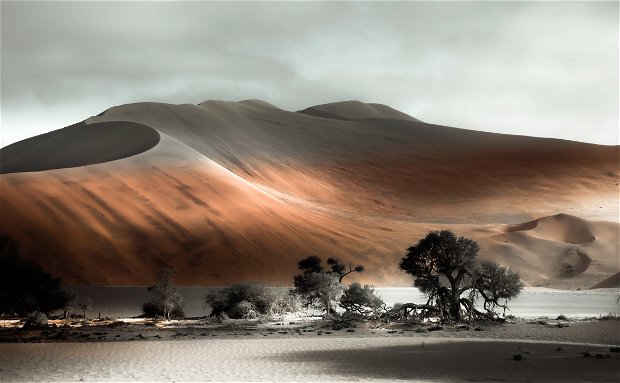 Namibia, a captivating southern African country, is a genuine treasure mine of natural and cultural treasures. Namibia, with its stunning landscapes and diverse ecosystems, offers a patchwork of breathtaking locations just waiting to be found.
This article will guide you through Namibia's must-see attractions, which range from wildlife-rich national parks to interesting beach villages. Namibia has it all, whether you're seeking for a safari adventure or cultural immersion.
The Northeastern Gem: Etosha National Park
Etosha National Park, on Namibia's northeastern border, is a breathtaking jewel that provides an unparalleled wildlife experience. The park features a massive salt pan that attracts wildlife. You'll see enormous African elephants, royal lions, endangered black rhinos, secretive leopards, and exquisite giraffes as you travel through the park. 
Etosha National Park has housing alternatives ranging from camping to chalets, letting you to completely immerse yourself in the surrounding wildlife. Etosha National Park serves all interests, whether you like resting at the restaurant or going on an exhilarating game drive.
The Sublime Scenery in the South:
As you go south, you'll come across Sossusvlei and Namib Naukluft National Park, which are tucked amid the huge and beautiful Namib Desert. Sossusvlei is known for its beautiful salt and clay pan, which is flanked by towering red dunes, creating a mesmerising scene. This gorgeous location is only accessible by 4x4 vehicle, adding to its attractiveness.
Exploring further into this awe-inspiring environment will reveal hidden gems such as Hiddenvlei and Deadvlei, solitary salt pans just waiting to be discovered. Meanwhile, Namib Naukluft National Park, located between the seashore and the Great Escarpment on Namibia's western border, is home to a broad range of animals, including gemsbok, baboons, and African wild cats. The landscape's wind-sculpted sand dunes are a stunning and unique sight.
The Seaside Sanctuary: Where Desert Meets Ocean
The lovely city of Swakopmund emerges as a compelling combination of natural beauty and cultural appeal as you approach the shore. Swakopmund is a haven for adventurers, with its clean beaches and interesting colonial German architecture. 
Engage in adrenaline sports such as quad biking, camel rides, paragliding, and desert day trips, immersing yourself in a tantalising blend of ocean panoramas and exhilarating sensations. The allure of Swakopmund will leave an unforgettable imprint on your soul.
The Centred Dramatic Damaraland:
Damaraland, located in Namibia's central western region, is a culturally rich region. This independent and culturally integrated area, home to the Damara people, provides a look into their vivid customs and rituals. 
Immerse yourself in the native way of life and witness the Namibian people's persistence and energy. Damaraland showcases Namibia's diverse cultural heritage.
A Southern Hidden Jewel: The Fish River Canyon
Continuing south, you'll come across the dry and huge landscapes that hide the hidden beauty of Fish River Canyon. Fish River Canyon is the world's second-largest canyon, stretching 27 km wide and reaching depths of roughly 550 metres. 
Its awe-inspiring geological structures, embellished with drought-resistant vegetation and a flowing river in the late summers, attract tourists to marvel at the Earth's grandeur. Take in the stunning views and put yourself to the test on the challenging hiking routes that cross this incredible natural marvel.
Along The Shore: The Skeleton Coast
Continuing down the shore, you'll come upon the Skeleton shore, a site of peace and frightening beauty. This craggy coastline, strewn with shipwrecks and home to healthy seal populations, captivates with its raw and magical vibe. The Skeleton Coast exhibits the beautiful cohabitation of nature's untamed fury and quiet tranquillity as you cross this distinctive desert region.
A Northern Paradise: Kaokoland
If you travel to Namibia's far north, you'll come upon Kaokoland, a naturalist's paradise. This region is a refuge of stunning nature, with mountain ranges reaching heights of up to 2039 metres. Despite its proximity to the Namib Desert, Kaokoland has several rivers and waterfalls that add to its natural splendour. Immerse yourself in the wild surroundings and marvel at the beauties of this lovely town.
A Peculiar Extension Captivated By The Caprivi
Namibia's "arm," also known as the Caprivi Strip, is a one-of-a-kind extension of the country. This area flourishes with sufficient water and a diverse ecology since it is bordered by four rivers that run through and around its limits, connecting Angola, Botswana, and Zambia. 
Enjoy exciting river drives while marvelling at the various wildlife that thrives in this region of the nation. Discover the riches of this wonderful region by exploring the river delta.
A Northern Ghost Town
A trip to Namibia would be incomplete without a stop in Kolmanskop, a deserted ghost town in the country's north. Kolmanskop, once a bustling diamond mining town, today remains as a witness to the passage of time. Its strange and interesting atmosphere draws adventurers and photographers looking to capture the stark grandeur of the Namib Desert interwoven with relics from a bygone period.
A Vibrant Capital
Finally, you'll arrive in Windhoek, Namibia's colourful capital. Windhoek, Namibia's gateway city, greets visitors with a lovely combination of German architecture and modern infrastructure. Explore the city's historical landmarks, feel the cultural diversity as you wander through its streets, and enjoy Namibian friendliness. Windhoek is an intriguing combination of history, culture, and modernity.
Conclusion
Namibia is a place of contrasts and surprises, where natural majesty and cultural heritage coexist. From seeing animals in Etosha National Park to witnessing the ethereal scenery of the Namib Desert, each site provides a unique experience that will capture your senses. You'll find a country that embraces its natural wonders and cherishes its lively traditions as you unravel the mesmerising fabric of Namibia's different regions. 
So pack your luggage, arrange your schedule, and let Namibia show you its wonderful beauty. We will assist you in creating a custom itinerary that includes the finest of Namibia's locations, providing a genuinely unforgettable experience.