7-Day Desert, Dune & Wildlife Private Charter Fly-In Safari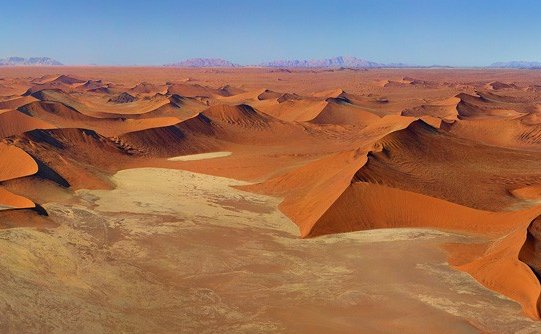 Experience the ultimate adventure in Namibia's most awe-inspiring locations. From the breathtaking dunes of Sossusvlei to the rugged Skeleton Coast and the stunning wildlife of Etosha National Park, this journey will leave you feeling invigorated and amazed.
Itinerary
Day 1 & 2 – Take to the skies
On arrival at the airport, you will be met by your pilot for your private charter flight to the majestic Sossusvlei.
Soar through the Namibian skies over the Namib Naukluft Mountain Range to the breathtaking red dunes of the desert.
In the morning, your lodge guide will take you into the park just before sunrise giving you the exclusive opportunity to watch the sun rising over this breathtaking desert landscape. Breathe, relax and take it all in… This view is one in a million!
Day 3 & 4 – Skeleton Coast
Your pilot will be waiting for you at the airstrip for your scenic flight over the desert and up the Skeleton Coast offering spectacular scenes of shipwrecks, abandoned diamond mines and Sandwich Harbour.
Land at Möwe Bay where your lodge guide will meet you for an exhilarating 4x4 transfer through the Skeleton Coast Park to your lodge.
Shipwreck Lodge offers an exclusive experience, completely isolated and set among the dunes overlooking the Atlantic Ocean.
Wake up to the cry of a Jackal scavenging for food along the shoreline. Head out with your lodge guide for a drive along the Hoarusib River to discover Clay Castles and maybe spot the Desert Adapted Elephants, Lions and Brown Hyenas. Tomorrow your journey continues…
Day 5 & 6 – Etosha National Park
Return to Möwe Bay where you will meet your pilot for your flight to your lodge on the eastern border of Etosha National Park.
You have two full days to enjoy fantastic game viewing, tranquility and adventure! Explore the 34 000 hectares of private wilderness with your lodge guide or head into Etosha National Park for the ultimate wildlife experience.
Relax and unwind at the pool or in your room and enjoy a spectacular dinner under the Namibia sky!
Day 7 – The end of your epic journey
Head out on an early morning game drive before transferring to the airstrip for your private charter flight back to Windhoek.  
Your pilot will assist you to the international departure terminal and bid your farewell.