How to Prepare for Your Namibian Desert Safari Adventure: Packing Tips for All Seasons
Posted by S. Schneider on Mon November 13, 2023.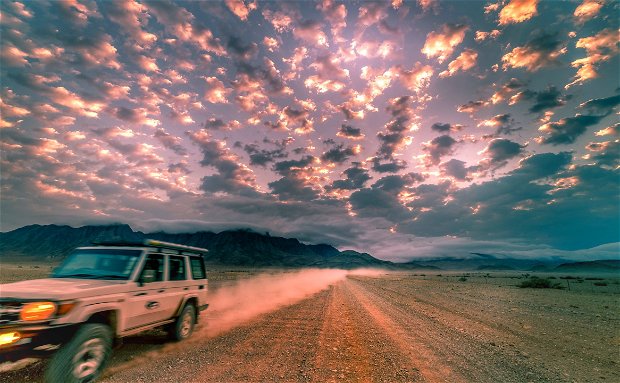 A desert safari in Namibia promises spectacular scenery, breathtaking sunsets, and unforgettable interactions with the wild. Being prepared is essential for making the most of your journey. The Namibian desert is a country of extremes, with hot summers and freezing winters, so proper packing is critical.
We have you covered whether you want to explore the dunes in the summer or stroll across the desert in the winter. We'll provide professional advice on what to pack for your Namibian desert adventure in this guide.
Summer Safari: Staying Cool in the Heat 
Breezy and Lightweight
Lightweight clothing is recommended during Namibia's summer, which lasts from November to February. It is critical to bring lightweight, breathable clothes. To protect your skin from the sun, wear loose-fitting, long-sleeved shirts and trousers. Light colours can help you stay cooler by reflecting sunshine. 
Protection is essential 
Don't forget to bring your sun protection needs. Bring a hat with a broad brim to protect your face and neck from the sun. Sunglasses with UV protection are essential for eye protection. Sunscreen with a high SPF and lip balm will preserve your skin from blistering. 
Getting in those steps 
For hot-weather hikes, sturdy, comfortable hiking sandals or lightweight hiking boots are perfect. To avoid blisters, make sure they're broken in before your trip. 
Safari Accessories 
A scarf or shemagh can provide sun, wind, and dust protection. A lightweight backpack for carrying supplies, a reusable water bottle and a flashlight for nighttime activities are all excellent options. 
Prep for Tech  
Don't forget to bring your camera! Namibia's breathtaking vistas are begging to be photographed. Keep additional memory cards and a power bank on hand to keep your gadgets charged. 
Adaptors and converters are required since Namibia utilises Type D and Type M power connectors. Check that you have the appropriate adaptors and converters for your equipment. 
Winter Safari: Keeping Warm in the Cool Desert Nights 
The essential clothing
From June to August, Namibia's desert winters provide cool evenings and pleasant days. The idea is to dress in layers. Thermal pants, lightweight long-sleeved shirts, a warm fleece and a windproof jacket are all recommended. Layering allows you to modify your attire as the weather changes. 
 
Temperatures can drop dramatically as the night falls. During evening activities, a beanie and gloves will keep you toasty. 
 
Closed-Toe Shoes are a must. In colder weather, choose comfortable closed-toe shoes or hiking boots to keep your feet warm and safe. 
 
A thermos loaded with a hot beverage, such as tea or coffee, might be a welcome addition on cold desert evenings. 
  
A warm scarf, sunglasses, and a headlight are still required. During the day, sunglasses protect your eyes from the harsh desert light, and a headlamp is useful for evening expeditions. 
Technology
Electronic equipment' batteries tend to deplete faster in cold temperatures. Extra batteries and a power bank are especially important on a winter safari. Check your adaptors and converters to ensure they are compatible with Namibia's power outlets. 
Tips for Packing for All Seasons 
Backpack: Invest in a good-quality, lightweight backpack with adjustable straps for comfort and easy portability. 
Water: Staying hydrated is essential in the desert. Carry a reusable water bottle and consider a hydration system with a tube for easy sipping during activities. 
First Aid Kit: A basic first aid kit with essentials like bandages, antiseptic wipes, and any personal medications is a must. 
Insect Repellent: While not a major concern, some desert regions may have insects. Pack insect repellent for added comfort. 
Cash and Identification: Always carry some local currency, as well as your identification and travel documents, in a secure, waterproof pouch.
Toiletries: Essentials include a small towel, wet wipes, hand sanitiser, and a toothbrush and toothpaste. 
Conclusion 
Packing for a Namibian desert safari is all about being prepared for the harsh desert climate, whether you travel in the hot summer or the cold winter. Plan in advance, dress appropriately for the weather, and don't forget your sun protection, electronics necessities, and adaptors.
You'll be ready to shoot magnificent views, stroll in the desert, and camp beneath the starry African nights if you follow our packing advice. Your Namibia desert safari experience awaits, so pack your luggage and ready for a memorable vacation. 
 
Ready to embark on your ultimate Namibian desert safari adventure? Whether you're drawn to the summer's scorching beauty or the winter's cool serenity, our expertly guided photographic tours are tailored to every season.
Don't miss the chance to capture the awe-inspiring landscapes, hike through the mesmerising desert, and camp under the starry African skies.  

Images by: Solly Levi