Namibia's Top Luxury Lodges: Indulge in Exquisite Comfort
Posted by S. Schneider on Fri August 4, 2023.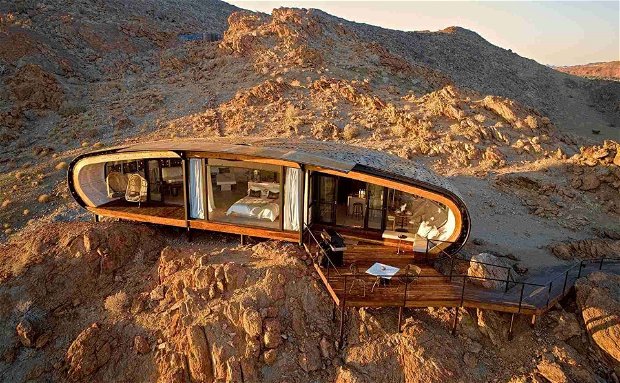 Welcome to Namibia, a country of breathtaking scenery and plentiful animals. Namibia's finest lodges are ideal for an exceptional safari experience combined with the highest luxury. These extraordinary places provide excellent service, spectacular views, and unrivalled luxury. This article will look at the finest locations to stay in Namibia, focusing on Windhoek's most extraordinary luxury hotels and resorts.
Why is a Luxury Namibian Safari a must?
A luxury Namibian vacation is necessary for anyone looking for an unusual and unforgettable travel experience. Namibia is a one-of-a-kind destination due to its gorgeous scenery, plentiful wildlife, and friendly friendliness. By picking a luxury lodge, you enjoy exquisite comfort and excellent service and access to some of the country's most pristine and unique areas. 
A luxury Namibian holiday ensures that every aspect of your journey is elevated to a level of sophistication and indulgence, whether you're marvelling at the surreal red dunes of the Namib Desert, spotting rare desert-adapted wildlife in remote regions, or exploring the rich cultural heritage of local communities. 
Immerse yourself in Namibia's breathtaking scenery, make lifetime memories, and depart with a strong respect for the country's natural treasures and friendly people. Such a  vacation will leave you invigorated, motivated, and eager to return for more.
Little Kulala Lodge: A Desert Sanctuary
Little Kulala Lodge is a natural luxury oasis in the centre of the Namib Desert. This resort provides vast villas with private plunge pools and rooftop star beds against towering red dunes. Activities like hot air balloon safaris, guided nature walks, and quad-riding expeditions allow you to immerse yourself in the stunning desert scenery. Little Kulala Lodge provides an unrivalled experience of tranquilly and natural beauty.
The lodge in the secluded Kulala Wilderness Reserve provides unique access to the spectacular Sossusvlei dunes. Rise early to experience the hypnotic play of light on the dunes at daybreak, or take a guided tour to Dead Vlei, an old clay pan studded with creepy dead camel thorn trees. After a day of exploring, relax by the pool or indulge in a refreshing spa treatment surrounded by the peaceful desert ambience.
Omaanda Lodge: Serenity in the Heart of the Savannah
Omaanda Lodge, located just outside Windhoek, is a peaceful retreat in the savannah. Its magnificent suites, designed with traditional African characteristics, create the right blend between comfort and elegance. The lodge's closeness to the N/a'an ku sê animal Sanctuary offers a once-in-a-lifetime opportunity to participate in animal conservation activities while experiencing incredible wildlife encounters.
Enjoy personalised activities at the resort, such as guided game drives, walking safaris, and trips to the on-site animal sanctuary. Observe cheetahs, wild dogs, and other fascinating creatures up close, and learn about conservation efforts to safeguard Namibia's valuable wildlife. Return to the lodge and unwind in your luxurious accommodation, which has a private veranda with spectacular views of the surrounding area.
Hoanib Valley Camp: Exclusive and Remote
Hoanib Valley Camp is an ideal alternative for people looking for a distant and intimate vacation. This eco-friendly camp in the wide Kaokoland provides stunning views of the desert and mountains. The roomy tents, which include modern decor and en-suite toilets, offer a relaxing getaway in the middle of the woods.
The desert-adapted fauna of Hoanib Valley Camp includes elephants, giraffes, and lions. Guests are accompanied on game drives by expert guides who highlight the exciting tales behind these tenacious species and the distinct landscapes they inhabit. Explore the steep terrain on foot, escorted by skilled guides who give insights into the region's rich cultural legacy and the Himba people's traditional lives. 
Zannier Hotels Sonop: A Trip Through Time
Zannier Hotels Sonop, nestled in the magnificent Namibian bush, exposes guests to a bygone period of splendour. The luxurious tents at the resort reflect old-world elegance while providing modern comforts and spectacular views. Participate in guided excursions, such as quad-riding trips, hot air balloon rides, and stargazing sessions beneath the great Namibian sky. Zannier Hotels Sonop is an idyllic getaway where elegance and tradition coexist together.
Explore the surrounding region, formerly a diamond mining town, and step back in time. Discover the relics of the past by taking guided trips to abandoned mines and historical locations. As you soar above the desert in a hot air balloon, take in the spectacular grandeur of the desert and marvel at the cosmic wonders during a guided stargazing adventure. The dedicated staff at the lodge guarantees that your stay is filled with elegance and charm.
Sossusvlei Desert Lodge: Exotic Desert Beauty

This resort in the NamibRand Nature Reserve offers a tranquil respite surrounded by the famed red dunes of Sossusvlei. The enormous apartments perfectly fit the desert scenery, featuring private plunge pools and rooftop star beds. On guided tours, marvel at the mesmerising grandeur of the dunes, watch magnificent sunsets across the vast desert plains and savour beautiful meals cooked by experienced chefs. Sossusvlei Desert Lodge guarantees a fantastic stay in the Namib Desert's majesty.
Explore the unique flora and fauna of the NamibRand Nature Reserve, home to various desert-adapted animals, on guided nature drives. Ascend the dunes for panoramic views of the surrounding desert reaching the horizon. Return to the lodge for a refreshing dip in your private plunge pool or unwind with a spa treatment to revitalise your body and spirit. As the sun sets, enjoy a magnificent supper beneath the starlit sky, surrounded by desert noises.
Conclusion
Namibia's most incredible luxury resorts combine natural splendour with sophisticated elegance to provide an unforgettable experience for discriminating travellers. These lodges cater to your every need, whether you want the tranquilly of the desert or the wildlife-rich savannah. Each club provides a remarkable stay, from private plunge pools and rooftop star beds to delicious meals and exhilarating activities.
Indulge in the beautiful luxury afforded by these outstanding places when planning your Namibian journey. Take your Namibian adventure to new heights by immersing yourself in the finest that this magnificent nation has to offer.
So, why delay? Explore Namibia's greatest lodges for a voyage of luxury and adventure, where magnificent vistas, flawless service, and unforgettable experiences await. Begin organising your dream Namibian vacation today and enjoy the splendour and comfort these outstanding resorts offer.