Namibian Fly-in Safaris: What Are They?
Posted by S. Schneider on Thu July 20, 2023.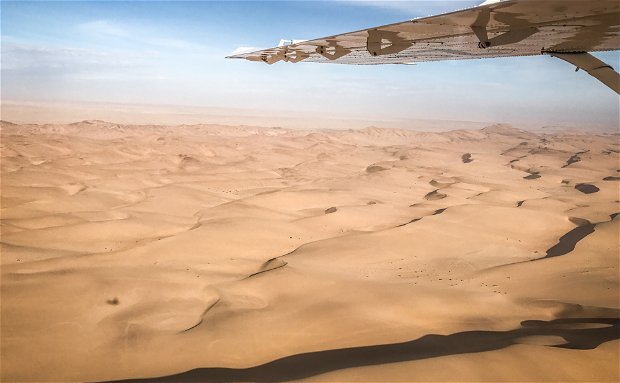 Fly-in Safaris present a phenomenal experience of soaring above the Namibian Desert with a bird's eye view. These safaris allow you to visit many places in a short time.
With Fly-in Safaris, you can book a charter flight, observe the country's fullness and "vastness" from above, and gaze down at Namibia's mesmerising scenery. This allows you to view some of Namibia's most remote locations quickly and conveniently. Not to mention, there are several packages for you to choose from.
Read along as we explore all your options.
Why Fly-in?
Fly-in Safaris are convenient and accessible. As Namibia has many secluded and out-of-reach sights, these safaris bring plenty of advantages, including access to destinations that surpass traditional road-based journeys. In addition, the rough terrains are challenging to navigate, with long distances and demands of 4x4 vehicles. 
With well-established airstrips and a network of flights, accessing remote destinations becomes effortless. You can save precious time by flying directly to your preferred destinations instead of wasting hours on the road. 
This time efficiency enables you to maximise your exploration and truly immerse yourself in the captivating landscapes and wildlife encounters that Namibia has to offer. From the dramatic red dunes of the Namib Desert to the wildlife-rich plains of Etosha National Park, flying directly to these destinations ensures that every moment is dedicated to experiencing the wonders of this extraordinary land. 
In short, a fly-in safari unveils a world of adventure without compromising accessibility, comfort and time.
Aerial Perspective
Get ready to buckle up and take to the skies! Seeing Namibia from above is like stepping into a grand, never-ending painting that's constantly changing. It's like being a bird, soaring high above rugged mountains, vast deserts, and sprawling plains—providing a dimension of majesty and grandeur.
The ever-changing colours of the Namib Desert's red dunes, the contrasting patterns of the salt pans, and the flowing rivers that cut through the wilderness all come to life in ways that cannot be truly appreciated from the ground. 
The airborne Safari allows you to enjoy Namibia's tremendous diversity and dramatic contrasts, showing nature's raw force and magnificent beauty. With each sweeping perspective, you better understand Namibia's ecosystems' interconnectivity and the fragile equilibrium they reflect. 
This unique aerial view allows you to experience the land's changing textures and curves, leaving you with memorable recollections of an astonishing trip to the heart of Africa.
Fly-in Safaris are exclusive and tranquil, unlike other modes of exploration. These untouched locations are often far from regular tourist hubs and have limited human presence—it eliminates crowds and urban noise, ensuring a true sense of exclusivity. 
A limited number of guests per stay adds to the exclusivity of fly-in lodges and accommodations. Many of these accommodations blend harmoniously into surrounding landscapes, offering seclusion and privacy. With fewer tourists and travellers, you can fully appreciate the serenity of your surroundings, the ultimate peaceful experience, and the quiet. You can escape the hustle and bustle of everyday life and immerse yourself in Namibia's untamed beauty.
Wildlife encounters
Due to the remote nature of Fly-in Safaris, the wildlife encounters may be more spectacular as wildlife is undisturbed and more intimate. Away from the usual tourist route, you can admire wildlife in its natural habitat without the interference caused by human presence. The tranquil fly-in safaris ensure a deeper connection to the natural world, from tracking desert-adapted elephants and observing elusive predators to encountering rare bird species.
Namibia provides a diverse tapestry of animal encounters, from classic big game animals to rare desert-adapted fauna. The mesmerising spectacle of large herds of elephants, beautiful giraffes, magnificent lions, and secretive leopards may be witnessed in places like Etosha National Park. The park's waterholes attract a variety of animals, affording fantastic close-up views of zebras, antelopes, and a variety of bird species. Furthermore, sightings of black rhinos expose the Namib Desert's hidden treasures, demonstrating the extraordinary persistence of these majestic species. With its spectacular vistas and abundant marine life, the Skeleton Coast provides opportunities to see Cape fur seals, dolphins, and even a roaming brown hyena. These fly-in safari destinations in Namibia offer a privileged glimpse into the lives of these remarkable animals, allowing you to create lifelong memories of close encounters with some of Africa's most iconic and unique wildlife.
Customise your Namibia Fly-in Safari
A Namibia Fly-in Safari allows for numerous customisations, allowing you to structure your itinerary to your preference. Here are some ways in which your Fly-In Safari can be tailored:
Destinations: Travellers can select their favourite places based on the landscapes and fauna they desire to visit. Whether it's the Namib Desert's red dunes, the Etosha National Park's wildlife-rich plains, or the Skeleton Coast's secluded beauty, fly-in safaris give you the freedom to design your own route.
Duration and Timing: Fly-in safaris may be customised to match your timeline, whether a few days or weeks. You may even time your Safari to coincide with special events or wildlife movements, boosting your entire experience.
Activities and Experiences: Whether you like game drives, guided walks, hot air balloon flights, birding, or cultural encounters with local people, your Safari may be customised to incorporate activities that appeal to you.
Group or Private Safaris: Private safaris offer a more intimate and customised experience for you and your chosen companions, whilst group safaris let you meet and share the trip with like-minded travellers.
Luxury Destinations
For tourists going on fly-in safaris, Namibia has a variety of excellent hotel alternatives. After a day of exhilarating animal encounters, these rooms are designed to give comfort and relaxation. The Little Kulala Lodge, nestled in the middle of the Namib Desert, is one such choice. This luxurious resort features extensive and exquisite villas with private plunge pools and breathtaking views of the surrounding desert scenery. The Hoanib Skeleton Coast is another famous luxury lodging in the isolated and mountainous Hoanib River Valley. This camp offers elegant tents with en-suite toilets and outdoor decks, immersing guests in the area's wild nature.
Another feature of luxury fly-in safaris in Namibia is the world-class dining options. Gourmet meals cooked by professional chefs with foreign and local flavours are served at the lodges. Guests may savour outstanding cuisine crafted from fresh, locally sourced ingredients and a great wine selection.
From the elegant interiors to the stunning surroundings, these lodges and many others provide a haven of comfort and relaxation, ensuring an unforgettable safari experience in Namibia.
A Menu of Fly-in Safaris
Sossusvlei Fly-In Safari: Discover the mesmerising red dunes of Sossusvlei and Deadvlei, as well as the spectacular dawn and sunset over the desert environment.
Skeleton Coast Fly-In Safari: Discover the rugged beauty of the Skeleton Coast, complete with shipwrecks, towering dunes, and rich animals like seals and desert-adapted elephants.
Etosha National Park Fly-In Safari: On exhilarating game drives and guided walks, discover the rich wildlife of Etosha National Park, home to lions, elephants, rhinos, and more.
Damaraland Fly-In Safari: Experience desert-adapted elephants, ancient rock art, and stunning scenery in Damaraland, a remote and stunning location.
Kunene Fly-In Safari: Visit the isolated Kunene area to meet the indigenous Himba people, follow desert-adapted rhinos, and marvel at the stunning scenery.
Fish River Canyon Fly-In Safari: Take in the splendour of the Fish River Canyon, one of the world's most immense canyons, and stroll around its rim for stunning vistas.
Caprivi Strip Fly-In Safari: Discover the beautiful marshes and rivers of the Caprivi Strip, home to a diverse range of animals such as elephants, buffalo, and birds.
Conclusion
Namibian Fly-In Safaris offer a massive vantage point compared to any other form of Safari. It allows you to cater your tour to your preferences. It provides access to rural and unique destinations, intimate wildlife experiences and luxurious, exclusive accommodations. Fly-in Safaris are convenient, and completely customisable. 
Explore Namibia from the heavens and allow yourself to be baptised in Namibia's raw and breathtaking beauty.